Meet Chalis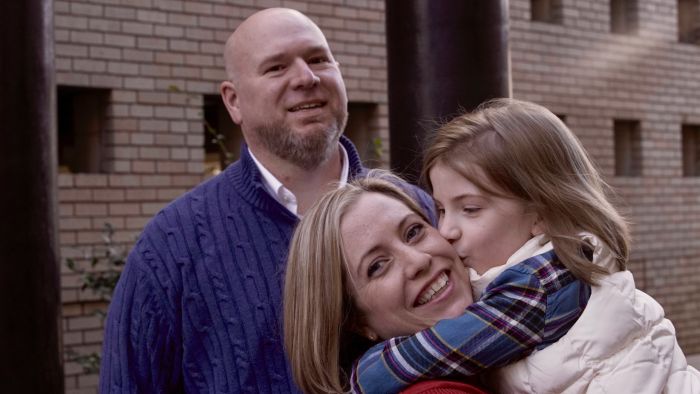 I was born in Nashville and spent my early years in lower Alabama. When my parents divorced, my newly single mother moved us to wherever she could find opportunity – which just happened to be North Dakota. While the scenery and accents were remarkably different, I soon discovered what is great about living in small towns throughout America: community.
As a young person, I learned the value of hard work. I spent long hours after school and summers working restaurants, retail, and road construction, and I was privileged to have many mentors who helped me along the way.
I grew up learning that life's marathon isn't always fair, that some of us start out fifty paces behind, and that we need to run harder and faster just to keep up. Most importantly, I learned that the fight to escape poverty belongs to all of us.
As a public school student, I received the benefit of the free lunch program when we needed it, as well as friends from a variety of backgrounds and wonderful teachers who invested in me then and are still with me on my journey today.
I worked hard in school and was awarded a National Merit scholarship as well as Pell Grants to attend the University of Mississippi. When I was offered a fellowship to attend Georgia State University to pursue my Master's degree in music, I happily accepted.
The true value of access to a world-class education was solidified by my experience in public school and college. The fight for equity in America begins with preserving public education.
Here in Georgia, I have been blessed with many opportunities to teach and perform music. I maintain a small business as an independent contractor, and I have carried my passion for helping people and families into work in children's ministry.
It was through my ministry work that I was able to advocate for immigrant children with a national coalition called the Evangelical Immigration Table, and we worked to educate our congressmen regarding common sense immigration reform. As a music educator who taught the same students year after year, I was often the first person to hear about the struggles they were facing. My focus has always been on children and families, from teaching and mentoring to advocacy. My fight has not been for notoriety or accolades, but for decency and compassion.
When I met someone who shared my values and views, we married and came to Georgia to work, study, and build our lives together. Now, seventeen years later, we continue to live our lives by those values of commitment to community and service to others. My husband Ken is a public school math teacher and we make our home in Bethlehem.
Seven years ago, we welcomed our only daughter Gwendolyn into our family. She is the reason I am no longer satisfied simply to protest from the sidelines. At the age of two, my daughter was diagnosed with juvenile rheumatoid arthritis, a chronic and painful condition that will be with her for the rest of her life. Like so many others, our family's fight is with medical bills, appointments, and uncertainty.
In January of 2017, I found myself at a constituent services event offered by my congressman, the Rev. Jody Hice. So many in attendance were angry and desperate for answers to their healthcare questions, including me. The staffer he sent in his place didn't have much to say.
Then in May, Rev. Hice voted against my daughter and every other child who suffers from a chronic illness by voting against the ACA. He voted against every family struggling with medical bills that relies on Medicaid, every family that finds itself facing a sudden serious illness without enough to cover the expenses, and he voted against us without meeting us in person and looking us in the eye.
The day after that vote, my husband was laid off and we lost our family's healthcare. While we tried to hide the stress from our daughter, kids are perceptive, and ours likes to eavesdrop.
When she figured out we might be struggling, she went to her piggybank, emptied it out, and offered to pay for her healthcare herself. In that moment, I saw all of us – all of us working every day and just barely making it – all of us too long ignored by Washington.
I told my daughter to keep her quarters, and I decided to run for congress to fight like a mother for every family in the 10th District.